Gregory Sherrow Gregory Sherrow (he/him) tries to write believable fiction but finds it hard enough to believe in real life. When not writing, he's the IT Director for a socially progressive institute in the Southwestern United States. Gregory currently lives in Southern California. Contact him at writing@gregorysherrow.com.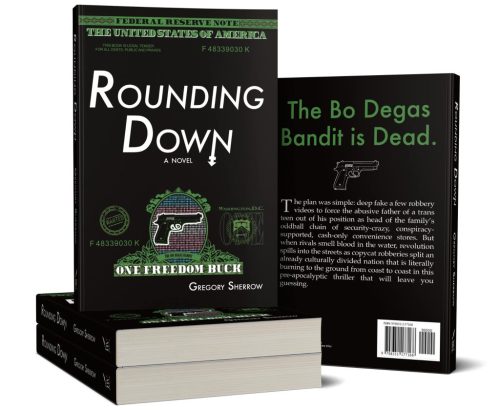 The Bo Degas Bandit Is Dead.
The plan was simple: deep fake a few robbery videos to force the abusive father of a trans teen out of his position as head of the family's oddball chain of security-crazy, conspiracy-supported, cash-only convenience stores. But when rivals smell blood in the water, revolution spills into the streets as copycat robberies split an already culturally divided nation that is literally burning to the ground from coast to coast in this pre-apocalyptic thriller that will leave you guessing.
"Imagine a Neal Stephenson novel plot but with a strong trans, gay, and BIPOC presence. How's that for an elevator pitch?" — Social Media Review.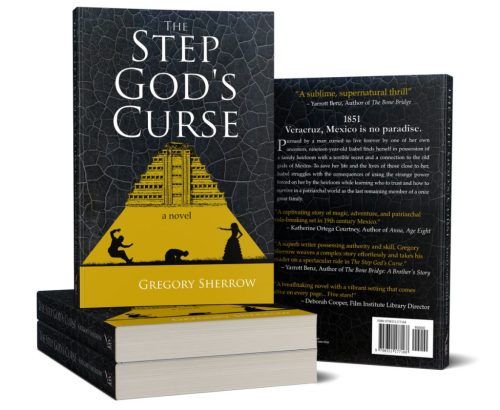 In 1851 Veracruz, Mexico is no paradise.
Pursued by a man cursed to live forever by one of her own ancestors, nineteen-year-old Isabel finds herself in possession of a family heirloom with a terrible secret and a connection to the old gods of Mexico. To save her life and the lives of those close to her, Isabel struggles with the consequences of using the strange power forced on her by the heirloom while learning who to trust and how to survive in a patriarchal world as the last remaining member of a once great family.
The reviews are in!
"A captivating story of magic, adventure, and patriarchal rule-breaking set in 19th century Mexico. Its core theme of the constant struggle of selfless devotion and family allegiance against the pull of darkness is timeless and universal."
—Dr. Katherine Ortega Courtney, Author of Anna, Age Eight
"A superb writer possessing authority and skill, Gregory Sherrow weaves a complex story effortlessly and takes his reader on a spectacular ride in The Step God's Curse. Illuminating this fascinating book are extraordinary details, from clothing to manners to architecture, providing an unforgettable setting for a ravishing narrative… and it is one that leaves the reader breathless and hungry for more. Spanning generations and taking place during "modern" Mexico's early history in the 17th, 18th, and 19th centuries, Sherrow uses authentic indigenous language and pre-Catholic traditions, along with his finely observed details, to propel his story. But beyond all the visual authenticity, each of his characters is beautifully, faithfully drawn and realized, each with his own history, passion, and motivation, connecting powerfully to the reader, and contributing to a sublime supernatural thrill."
—Yarrott Benz, Author of The Bone Bridge: A Brother's Story
"A breathtaking novel with a vibrant setting that comes alive on every page. Interwoven, supernatural facets add an undercurrent of evil to a story told with authenticity and detail. There is something in here for fans of historical fiction, historical fantasy, and those who just love a good adventure. Five stars!"
—Deborah Cooper, Film Institute Library Director